As a bride to be, there seems to be an infinite amount of gorgeous wedding dresses to choose from! So you have combed the whole of Ireland, why can't you find "the one"?! … (or should I say the other "One") . From my own experience going shop to shop, there are many gowns that you can like parts of…but none have everything that's on your dream dress wishlist. This is where we can help! You can have it all!! Yay!
We want to create the wedding dress you've always dreamed of and don't want you to settle. We take time to get to know a little about you, your wedding day, and your dream dress in order to present you with Bespoke ideas – just for you!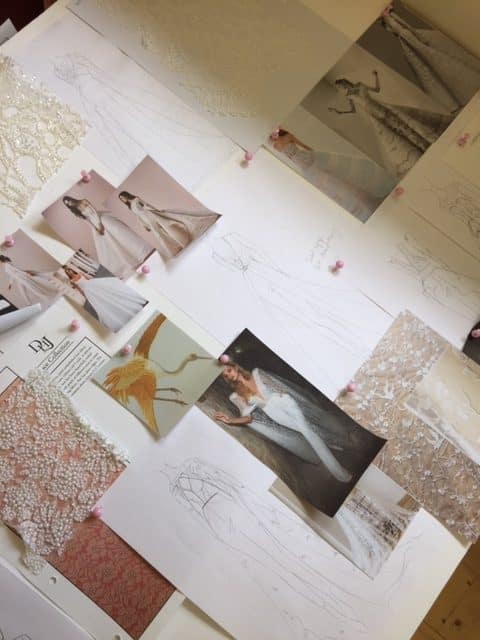 From learning a little about your gorgeous wedding venue, type of ceremony and time of year – It gives us a little snapshot of what your day might look like and helps us with the brainstorming! It's not that your dress design is dictated by these elements, but it helps to ensure that it ties in nicely with all of your wedding plans.
From here we ask a little about Style… It's amazing how accurately our Insta follows and Pinterest princesses can give away about our own personal style. We don't want to create any mini-me's…but we can decipher clear trends from those stylish ladies you follow that we may like to consider for your custom design. Such as these ladies below show that our bride is inspired by Old Hollywood style but with a youthful and playful edge.
Having combed through all the info, we can then get into your bridal brain and come up with your Bespoke Mood Board. We pick some key design elements to show you what ideas/shapes you may like to include in your design…
…such as encrusted graphic fabrics…
…Or divine sculpted skirt details…. Or detachable detailing….
…and possibly some Bespoke couture style embroideries or a colour fabric option!
All these ideas are applied and combined to give you your own Bespoke Bridal designs to choose from. These ideas are starting points for you to customise and make 'you'! We can take bits of one and apply to another until we have your own designer wedding dress!
You can pick and choose from different design details… Our designer is on hand to offer advice on the perfect cut to suit your shape and clever design tricks to ensure your wedding dress is enhancing all our best bits!
And from a range of the most stunning and high quality bridal fabrics. All of our fabrics are limited edition and we have so many gorgeous options to choose from to suit your design. We will show you a range of fabrics suited to your budget….and you decide!! From silks, laces, tulles and embroidered fabrics…there is nothing you can't do! We will source the perfect cloth to ensure your dress stands out!
Finally – We sketch up your own Bespoke Bridal design….and then the real fun begins!
Let's get Creating!!!