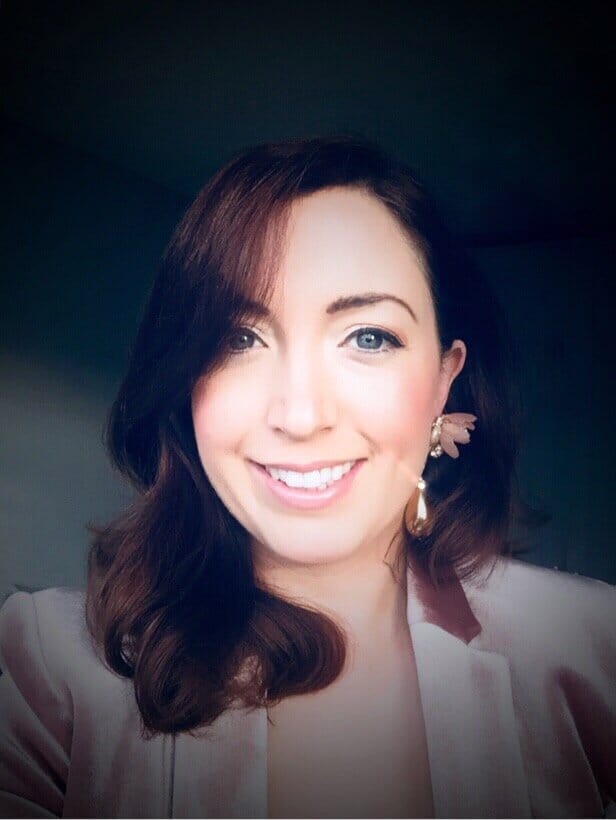 Niamh Lynch has 10 years experience in the high-end fashion industry working with leading fashion designers in the UK and Ireland, John and Simone Rocha. Having created garments shown on the world stage – both on the catwalk at London Fashion Week and for celebrity clients – Niamh is passionate about bringing couture style to the Irish market. While working as a senior member of the creative team for almost a decade, Niamh developed her skills in garment construction and tailoring. She was also exposed to various couture techniques while working with an incredibly skilled team, under the vision of John and Simone Rocha. The garments she has worked on have been worn by some of the world's most stylish women, from Lady Gaga, Rhianna and Alexa Chung to name a few. Her attention to detail and fit, combined with an edge of creativity is a signature of her work.
Niamh Lynch is an Irish grown fashion designer who has had an innate passion for creativity from an early age.
Niamh studied design throughout her school years and formalised these skills at the Grafton Academy, Dublin. Here she undertook courses on pattern drafting, draping, textiles and embellishment as well as fashion illustration. She graduated from the Grafton Academy in 2010, specialising in Bridal and Evening wear. In her final year, Niamh won a number of "Designer of the Year" Awards and on graduating went on to start her professional career with two of the world's leading fashion designers – John and Simone Rocha.
Niamh's ambition was always to have the opportunity to create her own label, which specialises in high fashion, unique gowns for the Irish Bridal market.
Create Your Own Bespoke Design!
inspired by your favorite fashion icon...
I would 100% recommend Niamh Lynch to anyone who is looking for a stunning dress that is unique, custom-made or if you're struggling to find your perfect dress in the shops.
Tanis
- Sept '19
Niamh is an absolute dream to work with. She's so creative and is amazing at interpreting what you have in mind, or giving you great suggestions if you're not too sure what you're looking for. I can't recommend bespoke bridal highly enough. It's also so lovely to have everything be made in Ireland - it feels that bit more special and also more sustainable.
Eda Martin
Amazing service and attention to detail from Niamh, so thrilled with the final product and the endless help and assistance in design and styling. Thank you so much Niamh! Highly recommended to any bride looking for ideas or something very special for their big day.
Sarah Verdon
10/10 for everything!! Can not recommend Niamh enough for all her fabulous ideas and designs. Such a lovely girl that made me feel really content trusting her with such an important part of my special day.
Andrea
I had the most memorable and enjoyable wedding dress journey, all thanks to the incredibly talented Niamh & her Bespoke Bridal team. From the moment I walked into Niamh's studio, I was absolutely certain that I would be walking out with my dream wedding dress in a matter of months...& I wasn't wrong! In fact, my dress exceeded all my expectations! Niamh is an absolute expert in what she does. Her professionalism & delightful personality allowed my wedding dress journey to be so enjoyable and to run so smoothly (even during all the restrictions and uncertainty) I felt extremely privileged to wear one of her many beautiful bespoke bridal gowns on my wedding day. I could not recommend Bespoke Bridal high enough. Thanks for everything Niamh.
LISA
This appointment put me at ease straight away, I was very nervous about how effectively someone could take my visions of my wedding dress and turn them into a reality. Each drawing that I was show, told me that Niamh had listened to exactly what I had said and asked for. I felt listened to and accommodated for, which cleared my nerves completely. I was shown samples of fabrics, which really helped me to envisage what my dress would look like. The time and care that was taken to ensure that I could picture the end result was fantastic. Overall, a really positive, professional atmosphere and I really look forward to working with Niamh and her team at Bespoke Bridal to create my wedding dress.
ANNA
My wedding dress experience with Bespoke Bridal was by far the best part of planning my wedding day. I didn't really know what kind of dress I wanted but found that I felt increasingly disheartened by the dresses in the high street shops. It felt daunting realising that what I wanted was to start from scratch and make my own dress. I can safely say, that this couldn't have been farther from the truth when I came across Bespoke Bridal, who were recommended by OneFab day as a new wedding designer service to watch out for. If you, like me, are a bit unsure of what you want or what would suit you, but you know that you want something personal and maybe a bit different, go to Bespoke Bridal. They will look after you throughout, you'll feel very cared for and you will walk away completely delighted with your dream dress. I couldn't have asked for more and I can't thank them enough!
NIAMH
I couldn't have asked for more from my experience with Bespoke Bridal. Over email, I explained what I had envisaged for my day. On our first appointment, Niamh had a mood board ready for me which fully encompassed everything I was looking for. Niamh's vision and talent is so impressive, not to mention her compassion for brides getting married during covid. Getting my outfit made with Niamh will be an experience I never forget as it is so special to me. The end product was more beautiful than I could ever have imagined! Thank you, Niamh.
CASEY
I'm really pleased with the bespoke wedding dress Niamh has designed for me. From our first consult it was clear to see Niamh is extremely talented and creative and really cares about creating the dress I truly want. The mood board, sketches and fabric samples Niamh prepared brought together all the ideas we discussed to create the dress I dreamed of exactly. I've had my first fitting and it was so lovely to see the dress come together and the appliqué embellishments she is creating for it are so detailed and amazing. I can't wait to see my finished dress.
ANNETTE
Niamh is an absolute dream to work with. She's so creative and is amazing at interpreting what you have in mind, or giving you great suggestions if you're not too sure what you're looking for. I can't recommend bespoke bridal highly enough. It's also so lovely to have everything be made in Ireland - it feels that bit more special and also more sustainable.
EDA
After going to a number of Bridal shops I wasn't finding exactly what I wanted. Niamh was able to design the dress that I pictured and also give pointers of what would actually suit me and look right on the day. Niamh has been so professional and made the experience so far really enjoyable!
OLWYN
Location: 16 Marlay Park Courtyard, Grange Road, Dublin South.
Email: info@bespokebridal.ie
Ph: 01-5674189
Fill in the form below with your name and details and we'll contact you. Or can you can book a time on our calendar for your appointment.