SO…YOU HAVE YOUR WEDDING DRESS. THERE ISN'T MUCH TO DO NOW BUT WAIT FOR THE BIG DAY. WRONG!! NOW YOU HAVE THE BREATHING SPACE TO THINK ABOUT BRIDAL STYLING! YAY!
ANYONE CAN PICK BEAUTIFUL ACCESSORIES FOR THEIR WEDDING DAY. BUT HOW ABOUT TAKING IT A STEP FURTHER AND STYLING YOUR BRIDAL LOOK WITH A HIGH FASHION EDGE?? HERE WE WILL TAKE A LOOK AT ACCESSORIES, MAKE-UP AND MORE TO THROW YOUR WEDDING DRESS STYLING OVER THE EDGE! X
CREATING A HIGH FASHION LOOK IS ALL ABOUT MIXING ELEMENTS THAT MAY NOT, IN THE WORDS OF AN IRISH MAMMY, "MATCH"!! IT IS ALL ABOUT BEING BRAVE, TAKING A CHANCE AND TRUSTING YOUR INNER MAGPIE. YOU NEED TO TRUST YOURSELF AND YOUR INNER STYLE AND NOT WORRY TOO MUCH ABOUT THE OPINIONS OF OTHERS, WHO MAY HAVE A MORE TRADITIONAL APPROACH. LET YOU DO YOU!
WOMEN HAVE BEEN DOING THIS FOR CENTURIES!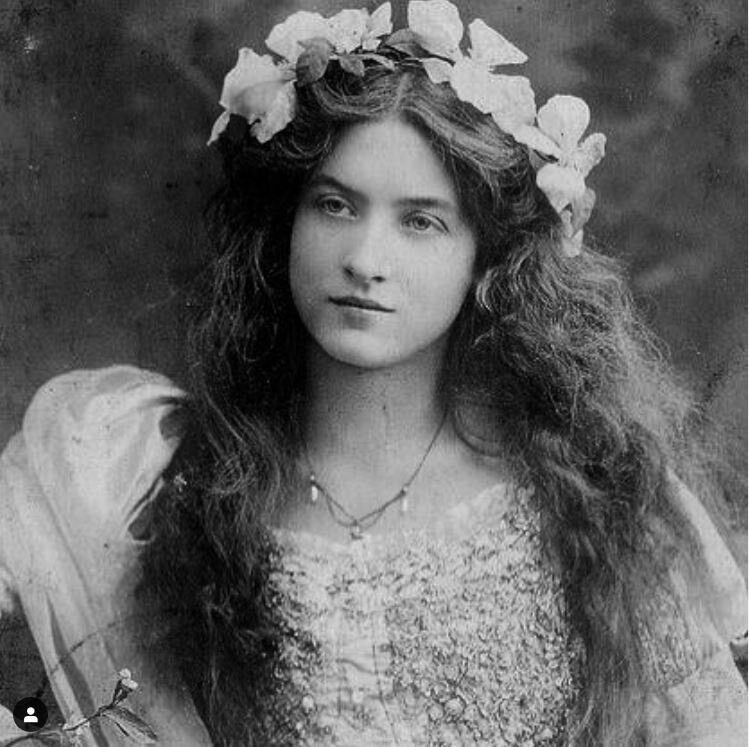 THIS LOOK IS FROM THE 1880'S. BUT IT COULD EASILY BE A BRIDE TODAY. THIS IS BECAUSE SHE IS FOLLOWING HER OWN UNIQUE PATH AND TRUSTING HER INNER STYLE. LET'S HAVE A LOOK AT SOME OPTIONS AVAILABLE TO INSPIRE BRIDES OF TODAY!….
THE HEADPIECE
THE HUMBLE HEADPIECE HAS ALWAYS BEEN A COHESIVE PART OF MANY BRIDAL LOOKS. WE ARE ALL FAMILIAR WITH THE HAIR VINE THAT ADORNS MANY BRIDES THE WORLD OVER. IF YOU WANT TO ADD A BIT MORE HIGH FASHION TO YOUR LOOK – THIS IS WHERE YOU NEED TO BE BRAVE. JUST GO FOR IT! THERE ARE SO MANY STUNNING OPTIONS OUT THERE. 'THE CROWN' THESE DAYS IS NOT THE TRADITIONAL TIARA OF THE NOUGHTIES. IT IS NOT AS GLAM AND TACKY AS ITS PREVIOUS COUNTERPARTS. THINK ETHEREAL OR GRAPHIC.
HIGH FASHION BRANDS, SUCH AS MARCHESA BELOW, SHOW TIME AND TIME AGAIN THAT THIS IS THE WAY TO MAKE YOUR LOOK MEMORABLE AND HAVE SOME FUN DOING IT!
IRISH BRAND AURA BRIDALWEAR OFFER GORGEOUS CONTEMPORARY BRIDAL HEADPIECES THAT REALLY MAKE A STATEMENT. CHECK OUT THEIR REAL BRIDE BELOW. STUNNING!
LETS TALK JEWELS!
WE ALL KNOW BY NOW THAT I'M BIG INTO A STATEMENT EARRING. THIS DOESN'T MEAN IT HAS TO BE BIG AND GARISH, JUST SOMETHING A LITTLE OFF-CENTRE. THAT'S WHAT ELEVATES A LOOK TO THE NEXT LEVEL.
THESE BEAUTIFUL EARRINGS BELOW ARE NOT PARTICULARLY "'OUT THERE' BUT THEY ARE JUST ENOUGH OFF THE BEATEN TRACK TO CAPTURE INTEREST.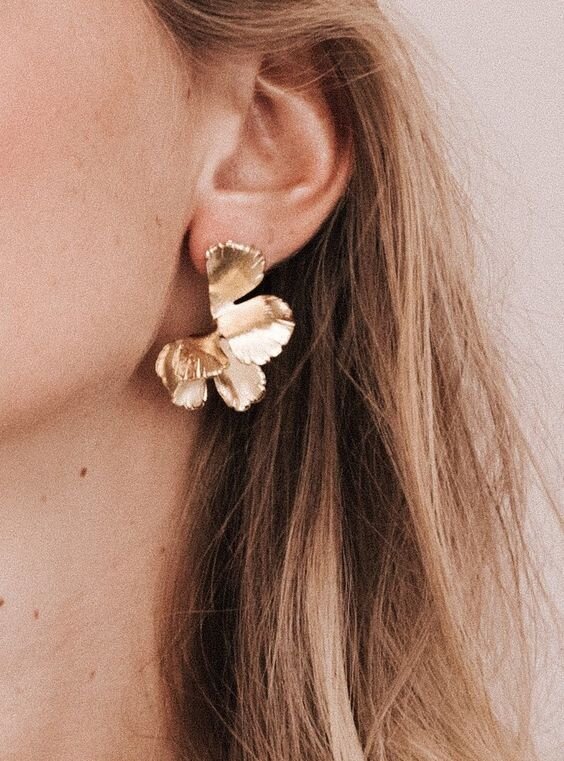 WHAT MAKES THIS LOOK BELOW SO INTERESTING IS ALMOST THE CLASHING OF STYLES. THIS MIXING OF HARD ELEMENTS – IN THIS CASE, CHUNKY CHAINS- AND A SOFT ROMANTIC WEDDING DRESS, ARE SO AT ODDS THAT IT WORKS!
YOU DON'T EVEN NEED TO GO AS FAR AS ABOVE… THINK MULTIPLE CHUNKY RINGS – OR ONE ON YOUR FOREFINGER! THIS ADDS ANOTHER INTERESTING HARD ELEMENT THAT IS NOT EXPECTED FROM A 'DAINTY' BRIDAL IMAGE.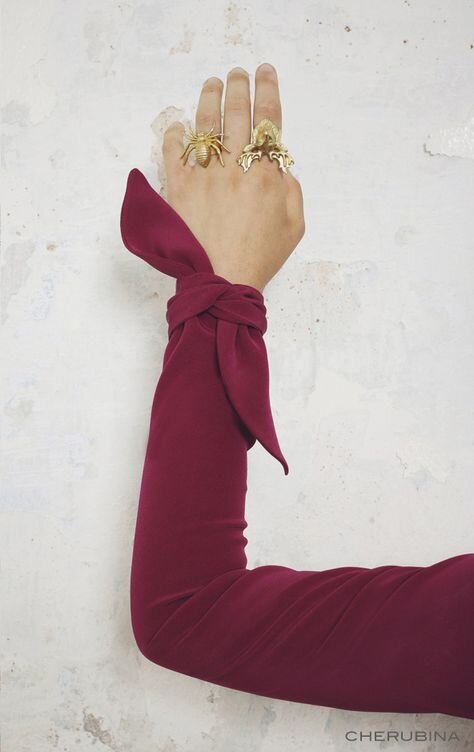 ONE OF MY ALL-TIME FAVOURITE STYLINGS HERE…HIGH FASHION BRAND NAME KHAN USED MULTIPLE STRINGS OF PEARLS DRAPED OVER THE MODELS SHOULDERS AND ARMS. THINK ABOUT PIECES YOU MAY HAVE – JUST WORN DIFFERENTLY.
LETS TALK HAIR!
FOR THE HIGH FASHION BRIDE – THINK SIMPLE. AVOID TRADITIONAL, CURATED TENDRIL UP-DOS. SO MANY BRIDES DON'T RECOGNISE THEMSELVES WHEN THEY LOOK BACK ON PICS OF THEIR WEDDING DAY WITH THESE FUSSY UP-STYLES. WHEN ELSE WOULD YOU WEAR A STYLE LIKE THAT? A MODERN SLEEK PONY WITH SOME VOLUME ON THE CROWN IS SUPER SOPHISTICATED AND STILL BRIDAL – BUT MAYBE MORE YOU!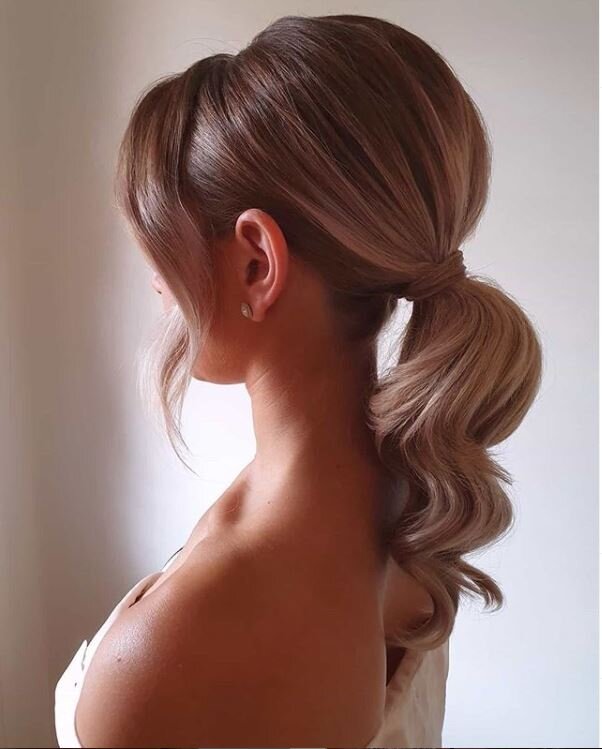 A MESSY BUN CAN DO THE TRICK TOO. YOU DON'T WANT TO LOOK LIKE YOU'VE TRIED TOO HARD. YOU JUST WOKE UP LOOKING LIKE THAT…RIGHT??!
LET'S GET MADE UP!
WITH YOUR "EYES BEING THE WINDOWS TO YOUR SOUL", WHAT BETTER PLACE TO SHOW YOUR PERSONALITY AND CREATIVITY. YOU WANT TO BE A TIMELESS BEAUTY…BUT THAT DOESN'T MEAN YOU CAN'T HAVE A PLAYFUL SIDE.
WHAT ABOUT A POP OF COLOUR? THIS TINY AMOUNT OF BLUE/LILAC REALLY SHOWS THIS BRIDE KNOWS HER STYLE WHILE STILL MAINTAINING AN ELEGANT LOOK. IT REALLY MAKES HER EYES POP TOO!
OR TO TAKE IT UP A LEVEL – CONSIDER A METALLIC EYELINER. SO MANY BRANDS ARE DOING THESE NOW AND IT REALLY GIVES THIS BRIDAL MAKE-UP AN ADDED EDGE. URBAN DECAY HAVE A GREAT RANGE OF SHADES.
THIS IS A BRAVE ONE – SURE! BUT I'M CHALLENGING YOUR AESTHETIC. A BEAUTIFUL DELICATE TRANSFER COULD ADD THAT HARD ELEMENT TO THE RIGHT BRIDAL LOOK. THESE ARE PLACED ON THE WRIST, BUT EQUALLY COULD BE GOOD ON THE ANKLE FOR JUST A FLASH WHEN DANCING. THERE ARE METALLIC BODY TRANSFERS TOO FOR A MORE GLAM LOOK.
I HEAR YA! I'VE GONE TOO FAR!! LOOK, I HELD MYSELF FROM POSTING THIS!!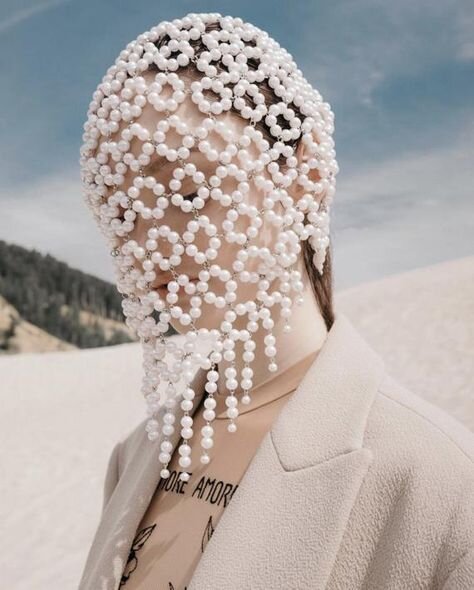 SO FOR NOW – THERE'S SOME FOOD FOR THOUGHT. WHEN SEARCHING FOR ACCESSORIES, CAST YOUR NET WIDE. DON'T STICK TO THE WELL-TRODDEN GROUND. GET CREATIVE. THERE ARE SO MANY UNIQUE DESIGNERS IN IRELAND PRODUCING BEAUTIFUL UNIQUE ITEMS TO A REALLY HIGH QUALITY. AND FOR THOSE WHO DON'T WANT TO VENTURE FROM THE COMPUTER SCREEN, ETSY IS A HIVE OF CREATIVITY AND UNIQUE LUXURY GOODS.
HAPPY STYLING BRIDES-TO-BE!